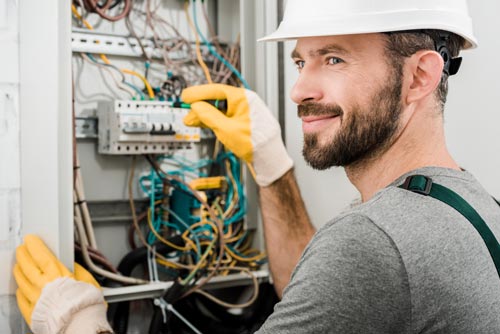 Wilkinson Electric Inc. is now hiring for journeymen electrician jobs serving Oakdale, Riverbank, Turlock, Modesto, and Manteca, CA! We are in search of a lead journeyman electrician for full-time work, and we're proud of our company's reputation for hiring qualified, capable individuals.
If hired, you will strive to provide safe electrical systems for a variety of customers. You must be hard-working, have tools and be willing to travel. Qualified individuals will be able to start and finish jobs with a crew under them, be able to work with an electrical engineer and other fields on site. Candidates must have good communication skills, particularly with lower subs and general contractors on site. You must also know how to bend pipe well, understand load calculation, main controls, switch gear, transfer switch and lighting controls.
Job Duties and Responsibilities
Install and repair electrical equipment and fixtures
Install various types of raceway and cable tray systems
Troubleshoot motor and control systems
Perform routine maintenance on electrical wiring and systems
Adhere to all quality and safety codes
Qualifications Required
Previous experience in electrical engineering or other related fields
Familiarity with electrical schematics, blueprints, and manuals
Familiarity with electrical equipment and hand tools
Strong problem solving and critical thinking skills
Qualifications Required Continued
Do you have a current CA drivers' license?
Do you have a current journeyman card?
Can you pass a drug test?
Additional Position Information
While we work primarily within Salida and Oakdale, CA, job locations will vary within two and a half hours from our shop in Salida. We work for the State and Federal Governments; employees must be able to pass a background test and drug screening. The salary range for our electrical journeymen positions is $66.00 – $74.75/hr. (total package). This is a full-time position.
Interested, qualified applicants are encouraged to please contact us and respond via email to [email protected].